We've got another big event coming up on June 12th (see below) but first a wee look back at what's been happening…
Tartan Day
It's been a busy time for the ScotCanBC members as we held our Tartan Day gathering, our third event of our 2018-19 membership year, at the Devil's Elbow Ale and Smoke House in downtown Vancouver on April 4.
Our guest speaker at this event was Frank Flood, Irish Consul-General, who gave a brief talk on international and local issues, including the importance of trade and investment between Scotland, Ireland and Canada and the Irish perspective on Brexit.
It was a great evening and we were delighted to welcome both returning and new ScotCanBC members.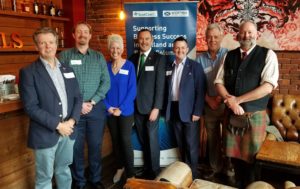 Haggis
Next on the agenda was a dinner with James Macsween (MacSween Haggis),Ronan O'Neill (Fresh Concept), Gareth Withers (ScotCanBC) and Tricia Barker (ScotCanBC).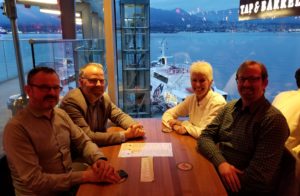 Discussions centered around the success around introducing one of Scotland's most famous products to Canada, following the lifting of the haggis ban and future trade opportunities for both meat and vegetarian haggis in BC and beyond. James MacSween also shared some interesting new ideas on how we can all enjoy Macsween's haggis! More details are available in the link below:
https://www.macsween.co.uk/recipes/
And now we'd like to invite you to our next big event!   Plaid for Dad
ScotCanBC is once again supporting Prostate Cancer Canada's Plaid for Dad campaign. This campaign aims to raise funds and bring awareness on prostate cancer, which impacts 1 in 7 men and their families. There has never been a better reason to get your tartan on!
Where: Devil's Elbow Ale and Smoke House (Whisky Room)
When: 5.30pm on Wednesday, June 12, 2019
Dress code: Tartan / Plaid!
June 12th also marks the ScotCanBC AGM and represents the perfect opportunity for members and prospective members to gather to hear about ScotCanBC's plans for the upcoming year, as well as raise money for a great cause.
Please RSVP to [email protected] now to let us know you'll be coming. If you aren't able to join us there will be an opportunity to donate via our donation page. The event is free for ScotCanBC members. Non-members tickets will also be available for purchase. More details to follow.
Our Sponsors
We would like to thank our sponsors Scottish Development International.
In addition we would like to thank the British Consul General, The Glenlivet, Air Canada, Virgin Atlantic, William Grant & Sons, Innis & Gunn, PMA Canada and Scottish Malt Whisky Society, each of whom has provided in-kind support and/or sponsorship at ScotCanBC events.